GP referral scheme a success
The GP Active Exercise Referral Scheme is open to anyone with a medical condition that would benefit from taking part in physical activity on a regular basis. The instructor will work to develop a programme that includes activities that are suitable for your medical condition and that you enjoy!
The scheme offers great value for money with a reduced start-up cost and no joining fee.
We spoke to two referral clients about their experiences of the scheme.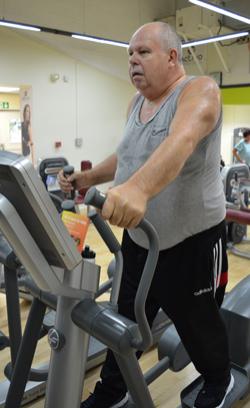 John (62) is a diabetic and had previously come to us under a referral when he was first diagnosed in 2008. He found it really helped and improved his condition. But then life got in the way and stopped coming. Everyday life got a little more difficult and after visits to his dietician and diabetic nurse, he decided to go to his GP at Lombard Street Surgery at the beginning of the year and request a referral for exercise to the Newark Sports and Fitness Centre rather than going on medication.
Now, John is very active. He walks and does the gardening in his spare time as well as sweating it out at the gym 3-4 times a week.
John has been working closely with one of our instructors, Michael, who is highly qualified and experienced in supporting clients through a programme of exercise that is right for their condition. John has had regular reviews with Michael throughout the initial 12 week referral, monitoring his progress and increasing the time, weight and repetitions on the equipment.
John's family and friends have been very supportive and they were the first to notice the difference in his fitness and movement. Before starting his regular workouts, he had difficulty bending down to pick something up off the floor but now he's moving around with a new found confidence.
Over the 12 week period he lost 7kg (just over a stone) in weight and has followed a healthy eating plan, proving that exercising and making better food choices is the key to success.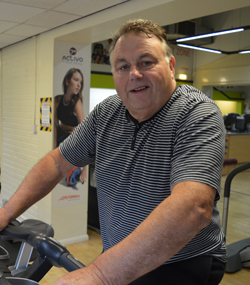 Peter (70) is a patient at the Fountain Medical Centre in Newark. He has always been active and is a keen sailor however he has had some problems with his heart having had two stents fitted earlier this year. The cardiac team at Newark Hosptial pointed him towards his GP for a referral after his operation and Peter ended up at Newark Sports and Fitness Centre to start his rehabilitation. Peter was no stranger to the centre so he wasted no time in making his first appointment.
Peter has combined his gym sessions with Pilates, yoga, swimming and meditation. With the support of our instructor Michael, Peter has made huge improvements to his strength and balance. Peter said: "I spoke to Michael about doing some other activities to get some variety so all these activities have increased by energy levels and now I feel brilliant!"
Within the 12 week referral period, Peter lost 8.6kg (nearly 1.5 stones) and is still going, he's built up his confidence with the support of Michael and the team, so needs very little help now and comes along and books into the classes when he wants to.
For further information, speak to your GP or email us at enquiries@active4today.co.uk
If you have a success story you would like to share with us to help inspire others do get in touch!