‌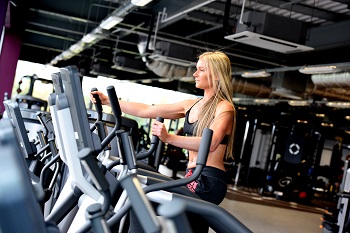 Over £1million worth of state-of-the-art equipment is now up and running at Newark Sports and Fitness Centre, Southwell, Blidworth and Dukeries Leisure Centre.
These fantastic new facilities will help our members reach their health and fitness goals this summer. The new equipment also has many new features which you can take full advantage of. Including the ability to connect to a smart device and record your work out, share your activities and compete with friends, receive support from instructors and playback previous workouts that you completed away from the gym.

‌Insignia Series
‌A selection of our new resistance equipment forms part of the Insignia range. This modern and eyecatching series is one of Life Fitness' newest ranges and offers it's users smooth and independent motion.
With a striking design and low profile towers the insignia series improves your ability to chat with other members during your workout,count reps and time spent on the machine.
The equipment benefits from redesigned grips which are elliptical-shaped and are uniquely positioned to properly align the wrist depending upon the type of machine. "Pulling" exercises (row, pulldown, etc.) have a smaller gripping area that allows the fingers to securely wrap around the grip and "Pushing" exercises (chest press, shoulder press, etc.) have a larger surface area to fit the palm and distribute pressure evenly.
‌Discover Series
Some of our new cardio equipment includes the Discover console which is an integrated touch screen that allows you to view interactive courses, entertainment on-demand and identify your preferred workouts when you connect your smart phone.
‌HD Elite‌
‌‌‌‌With free weights becoming a popular market all centres now have access to HD Elite racks. The HD Elite range is Hammer Strength's most durable rack line built for extreme training conditions and gives you all the options you need to make your training regime durable and flexible.
Synrgy360
All of our centres also benefit from access to a Synrgy360. This multi-purpose equipment allows users to get involved in group exercises and allows insutructors to lead high intensity sessions in the heart of the fitness suite. ‌‌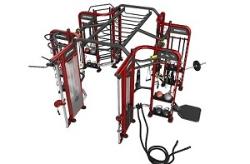 Synrgy360XL‌ ‌
Available at Newark Sports and Fitness centre
The groundbreaking SYNRGY360 system creates a fun, inviting and meaningful workout experience for all exercisers.
The XL offers eight unique training spaces, including a 10-handle monkey bar zone and two dedicated areas for suspension training.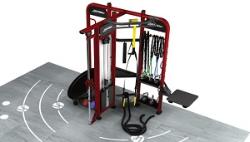 Synrgy360T
Available at Dukeries and Blidworth Leisure Centres
The T offers two unique training spaces and includes a power pivot, stall bars and battlerope.
LF Connect‌‌‌‌
‌‌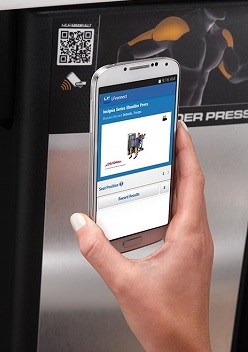 The LFconnect system allows you to connect your smart device using the LF Connect app to interact with cardio and strength equipment. It tracks workouts, lets you access personalized workouts, provides motivation, and serves as an in-workout display on cardio equipment.
You are able to integrate your device with the Discover equipment which provides real-time tracking and gives you immediate access to personalized workouts. Factors like speed (treadmill only) and incline/resistance will automatically adjust during a custom workout.
There is also the ability to scan the QR code on the equipment to link your devices to track your workout, receive reccomendations on the machine set-up based on your details and view an instuctional video which shows the correct way to use the machine.
For more information and to download the app visit the LF Connect website or search 'LF Connect' on the app store.