Nottingham University Samworth Academy
NU Samworth Academy, Bramhall Road, Bilborough, Nottingham NG8 4HY
NUSA host a variety of excellent sporting facilities available for hire, as well as Classrooms, Studios and a Lecture Theatre.
Facility hire is available from Monday - Friday 6pm-9pm Weekend hire available between 9am-6pm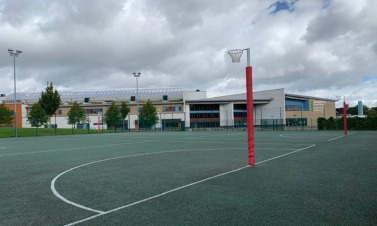 Gymnasium - A fantastic space for Gymnastics, Trampolining, Martial Arts, Dance, Mini Football and Fitness Classes alike. Facility hire from £15 per hour.
Drama Studio - This room is perfect for small fitness sessions or drama/ dance rehersals due to its flooring. Prices from £15 per hour.
6F Room - This room is ideal for group meetings, club AGMs, or short courses. Prices from £15 per hour.
'The Street' - A large bright atrium area which can be used to host Table Tennis sessions and tournaments, as well as large events. The space is divided by a large bridge and has previously been used for weddings and corporate events. Prices upon request.
Sports Hall - This large 4 court Sports Hall boast 2 cricket nets/mats and basketball hoops which are available at all times. Netball, 5 A Side Football, Badminton and many other sports can be played here. Prices from £30 per hour.
Basket Ball Court - This area is perfect for a 'knock about' with friends. The short court allows training for juniors and small groups of adults. Prices upon request.
To enquire about availability or to secure a booking please get in touch:
Tel: 01636 655780